Talkin' Bodysuit
One second in this Texas heat, and you will be wishing you were wearing a bathing suit. It is naturally my outfit of choice, even underneath my clothes, since I sweat the moment I walk out of the door. I got this braided back beauty on sale at PacSun for only $13 and wore it as a bodysuit, during an adventure (that involved lots of food and new sights) through The Heights of Houston!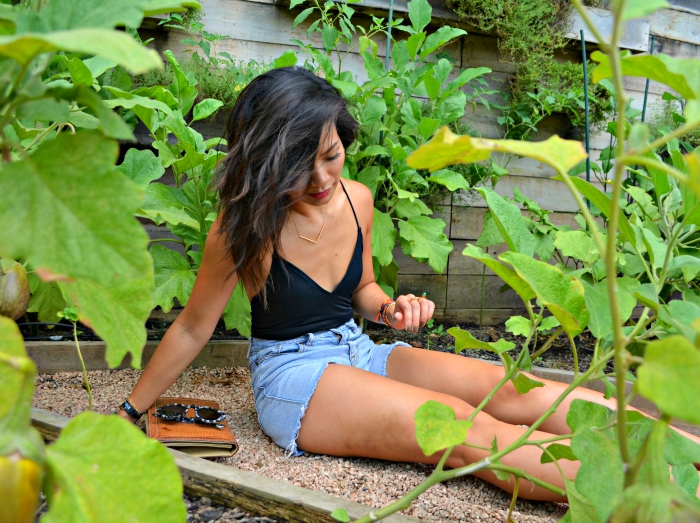 Loving my first Rocksbox! It is an unlimited designer jewelry rental service, where you can keep the jewelry for as long as you want or switch out the jewelry as often as you like! Just take the personal style survey, and a stylist chooses three pieces for each box that best suit your style!
Use code, "TeresaThuyxoxo", to receive your first month free! After that, you can keep the service for only $19 a month!
I am enjoying every bit of summer. Went stand up paddle boarding last week at Discovery Green for $10 for 20 minutes. Since there wasn't anyone waiting for a board after me, I got to paddle board for almost an hour! It was so much easier than previous sessions in the ocean. Am excited to go stand up paddle boarding today at Lake 288!
Photographer: Norris
OUTFIT DETAILS
Swimsuit - PacSun LA Hearts One Piece Swimsuit (Still available in nude) Sale $18.47 Similar Free People Scoop Back Bodysuit Sale $28.50 Similar American Apparel Halter Open Back Bodysuit $25 // UO BDG High Waist Jean Shorts OLD Similar UO BDG High Waist Jean Shorts Similar Sale $29.99 // Target Sandals Sale $19.99 / Triple Graces Sunglasses $63.33 a pair or $31.11, if you purchase three pairs / Vintage Snakeskin Clutch that my dad purchased from Egypt for my mom / Liana Paula Malachite Bracelet / Gorjana Necklace and Sophie Harper Bar Studs from Rocksbox
Hope you enjoy your Tuesday! Stay cool, my friends!
xo,
Teresa Thuy